StormMeister™ World Leaders in Flood Product Development
StormMeister™ Active Flood Seal.


StormMeister™ Flood Protection Doors, the only flood door fitted with an active flood sealing mechanism maintained by pressure of flood water. Worldwide Copyright, Patents and Patent Applications.

Other flood doors use conventional seals which attempt to resist the pressure of rising flood water, StormMeister™ Doors utilize that pressure in their unique flood sealing mechanism that maintains effective flood resistance long after conventional seals have failed.

StormMeister™ Flood Protection Doors exceed PAS 1188-1:2014 the industry standard by some considerable margin, testing at our new testing facility in Preston demonstrates zero leakage at 600 mm flood height with ongoing flood resistance to heights well beyond that.
We are now giving live demonstrations to representatives of the trade, local authorities, and public at our testing facility in Preston, Lancashire which is situated close to M6 Junction 31. Anyone wishing to attend a live demonstration is requested to fill out the form on our Contact Page.


Quality Assurance.

William M. Snape Manufacturing Services (UK) Limited (the Company) will at all times in the manufacture and supply of StormMeister Flood Doors adhere to their established Quality Assurance Systems and Procedures for product and/or service Conformance and Traceability and additionally to the Management Principles of ISO 9000:2000 as part of the Company's approach to consistent achievement in product development, customer service, and our Total Quality Management Philosophy.
How The Active Flood Seal Works.
Flood water is a powerful force and StormMeister™ Flood Resistant Doors harness that force in order to maintain effective flood resistance without using complex locking mechanisms.
A multiple chamber structure is formed by a specially designed Chamber Gasket and flood water is actually allowed to enter the first chamber, the water chamber.

Pressure of flood water in the water chamber then presses the Chamber Gasket firmly against the door leaf in order to maintain what has proved to be an extremely effective flood seal under test conditions maintaining zero leakage at 600 mm of water!

Most flood doors employ complex locking mechanisms in order to achieve compression and flood resistance. StormMeister Flood Doors utilize the pressure of flood water in order to achieve far greater compression and much better flood resistance whilst at the same time StormMeister™ Flood Doors are easier to lock and easier to maintain.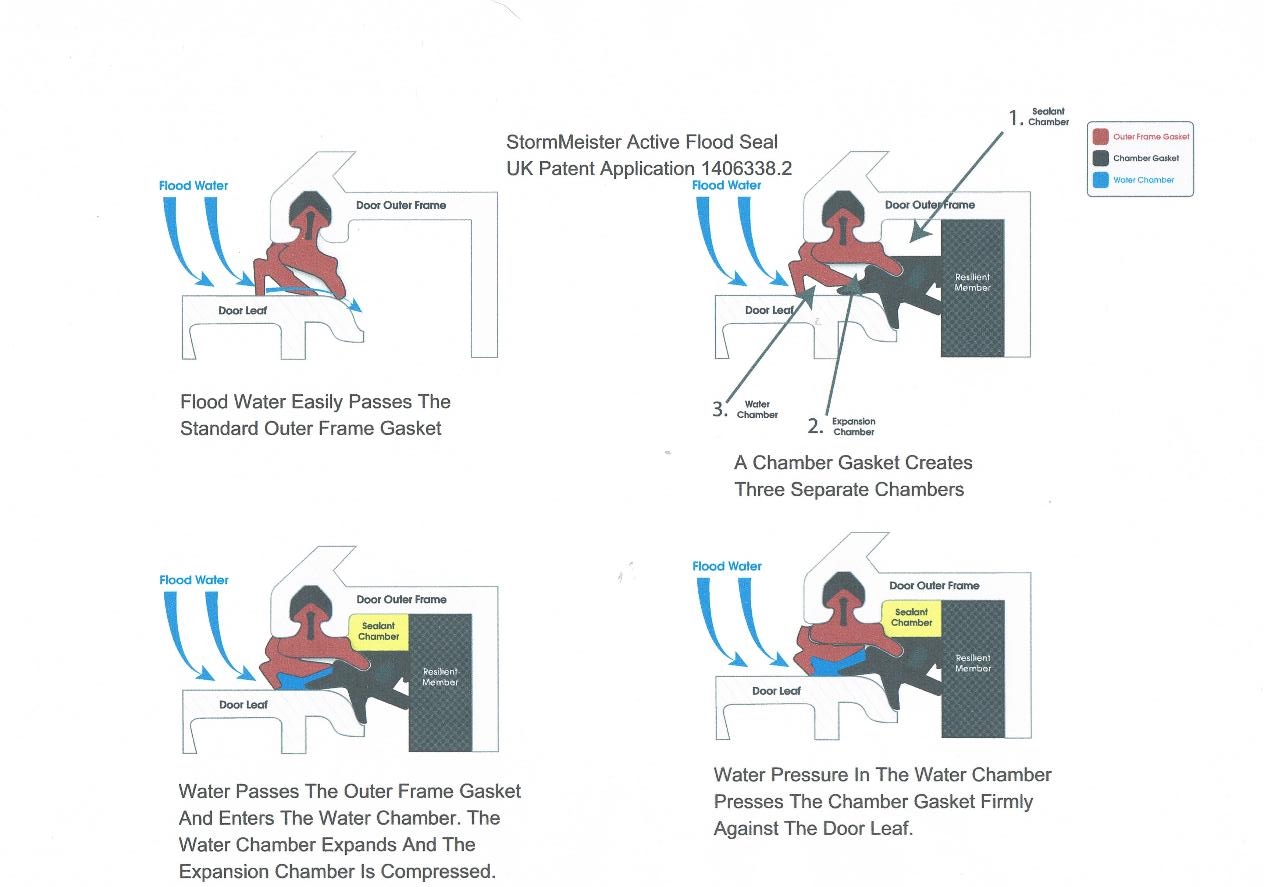 All StormMeister™ Flood Doors are manufactured to ISO9002 the International Standard of Excellence using specially formulated impact resistant plastics tested to BS EN12608 within a temperature range of -40 to +40 Centigrade.

Available in white, various wood grains, and a choice of hundreds of factory applied colours every flood door is fitted with the StormMeister™ Active Flood Seal, your assurance of the highest flood resistant performance within the industry.

Contact us for a Free No Obligation Quotation. If you decide to go ahead we will deal with everything from design to installation by our Flood Door Technicians. All StormMeister™ Flood Doors fitted in privately owned residential properties are covered by our fully underwritten TEN YEAR GUARANTEE and that guarantee is transferable should you sell your home within the guarantee period.