StormMeister™ World Leaders in Flood Product Development
At William M. Snape Manufacturing Services we manufacture the StormMeister™ Flood Protection Door for clients including The Environment Agency for Flood Defence Schemes throughout the UK and export World-Wide. The only flood protection door incorporating a unique specially designed Patented Active Flood Seal which maintains an effective flood resistant seal well in beyond flood levels of 600mm the industry standard. If your home is at risk of flooding peace of mind is only a phone-call away, we have experts who will advise on specific options for your particular needs, not only with regard to flood resistant doors we can advise on all aspects of avoidable flood risk. All quotations are free of charge and without obligation, we are members of the Safe Trader Scheme so high pressure selling is completely out of the question. Don't delay, phone today, our flood protection door experts are on call 7 days a week, during office hours call 01772 70 44 29 outside office hours call 0788 956 7356. Alternatively you can submit your inquiry by using the form on this page or by emailing contact@stormmeister.com


StormMeister™ Flood Doors, Flood Gates, Flood Windows and Flood Barriers

are manufactured by

William M. Snape Manufacturing Services (UK) Limited,
Unit 1,
West View,
Preston,
Lancashire PR1 5EP,

United Kingdom.
Company Registration Number 07323213 (Place of Registration England and Wales).

Telephone +44 (0) 1772 70 44 29.
Email contact@stormmeister.com
EXTREME TESTING
StormMeister Flood Doors and Flood Barriers are tested by deluging with water in realistic flood situations, far in excess of the requirements of PAS1188-1 2014 the industry standard for flood doors.

PRICE PROMISE.

We will be competitive at all times for all our flood door and flood barrier products. We will beat any like-for-like quotation and we will never compromise on quality or performance in achieving that aim.

Payment can be made By Debit or Credit Card including American Express.


To arrange a free no obligation quotation please fill out the form below,
QUALITY ASSURANCE.

William M. Snape Manufacturing Services (UK) Limited (the Company) will at all times in the manufacture and supply of StormMeister Flood Doors and Flood Barriers adhere to their established Quality Assurance Systems and Procedures for product and/or service Conformance and Traceability and additionally to the Management Principles of ISO 9000:2000 as part of the Company's approach to consistent achievement in product development, customer service, and our Total Quality Management Philosophy.
All StormMeister™ Flood Doors are manufactured to ISO9002 the International Standard of Excellence using specially formulated impact resistant plastics tested to BS EN12608 within a temperature range of -40 to +40 Centigrade.

Available in white, various wood grains, and a choice of hundreds of factory applied colours every flood door is fitted with the Patented StormMeister™ Active Flood Seal, your assurance of the highest flood resistant performance within the industry.

Contact us for a Free No Obligation Quotation. If you decide to go ahead we will deal with everything from design to survey to installation by our Flood Door Installation Engineers. Subject to our recommended maintenance procedures all StormMeister™ flood doors in privately owned residential properties are covered by a GGFi INSURED TEN YEAR GUARANTEE and that guarantee is transferable should you sell your home within the guarantee period.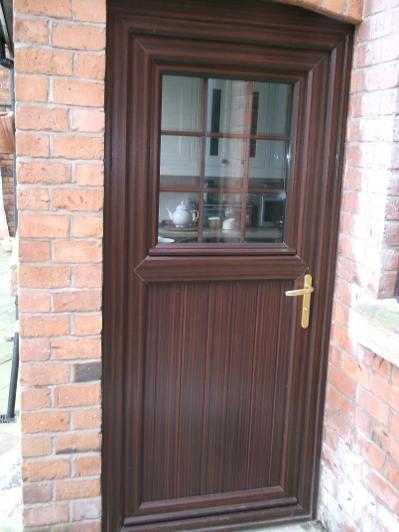 ©2010 to 2017 William M. Snape Manufacturing Services (UK) Limited. All rights reserved.
StormMeister™ and Active Flood Seal™ trademarks are the property of William M. Snape Manufacturing Services (UK) Limited.
All StormMeister™ products are protected by design rights, patents, patents pending and copyright.
Any and all unauthorised reproduction, replication, modification, distribution, display or publication of that which is covered by William M. Snape Manufacturing Services (UK) Limited's rights is illegal and constitutes infringement under civil and/or criminal law.